Augmentative & Alternative Communication (AAC)
Augmentative and Alternative Communication, or AAC, is a term that is used to describe various methods of communication that can help people – young and old – who are either unable to use verbal speech to communicate or need enhancement. AAC methods vary and may be personalised to meet each individual's needs.
Vocalsaints' speech-language therapists are experienced implementing AAC strategies for people of all ages. Call or email today to discuss how we can help you.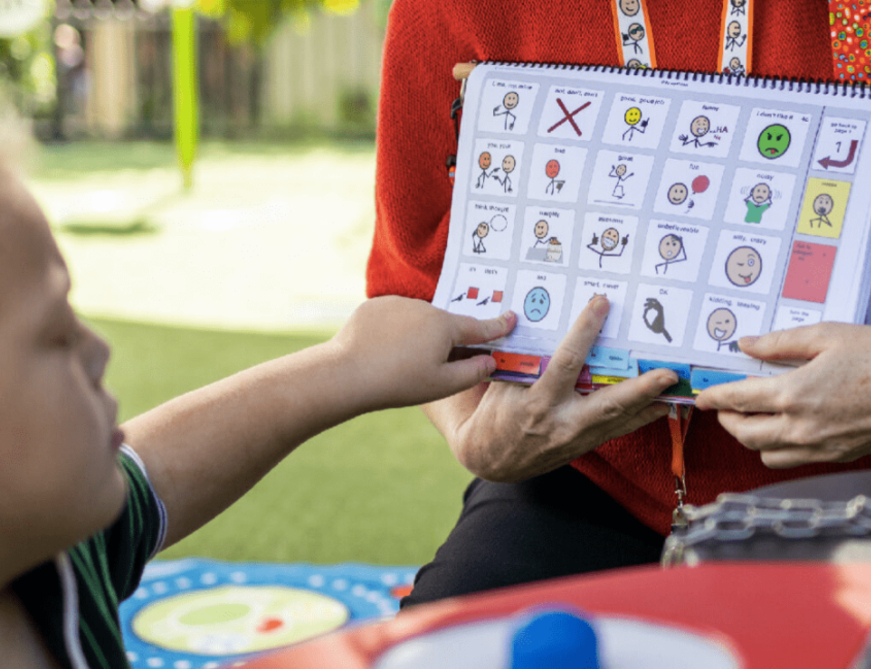 Augmentative systems are used by people who already have some speech but are either unable to be understood, or have limited speaking ability. So, their speech is augmented or enhanced so that they can be clearer to more people or be able to express more than their spoken voice allows. This is also for young children while they are learning to speak, for example by using simple signs or specific visual pictures.
Alternative communication is the term used when a person has no speech at all. These people must completely rely on another method to make all their ideas, wants, or needs known. Examples of AAC include:
Natural gestures
Sign language
Communication books
Symbols – picture, photo, line drawing
Letter boards
Pragmatic Organisation Dynamic Display (PODD)
Software on a tablet, such as TouchChat
Eye-gaze and head tracking system
For some individuals with high and complex needs, a specialised TalkLink Therapist is involved for specific assessment and trialling of equipment. A separate Speech Language Therapist is involved to the ongoing support, monitoring and extension of use for the AAC. Vocalsaints Therapists have experience to provide this therapy.